Known as "Mama" or "Ms. Teresa" to everyone onsite, Teresa Ungay's passion for food took her from being a stay-at-home mom in the Philippines to a long career in food, including time at the US Consulate in Japan and the Middle East. Since joining Aden, Teresa has worked in Vietnam and Indonesia. Today, she is Aden's Catering Manager at Nusa Halmahera Mining's camp, one of the world's largest gold mining operations. 

How would you describe a day in the life of a catering operation manager?
Busy! I oversee the management of the whole catering operation, which includes costing for all of the food and, most importantly, managing my people. The job is very dynamic. No two days look exactly the same, but that's part of the fun. You can often find me in the kitchen with the team, experimenting with different ingredients and thinking about how we can adapt our menus.
How do you see your role and the importance of the team?
For me, the most important thing has always been fostering an environment that brings people together and recognizes their talents and passions. That, in turn, creates great food experiences. When I arrived at Gosowong, there were already many experienced people onsite - I didn't want to just be "the boss" in the sense of telling people what to do. I also wanted to be someone who sees potential in people and gives them opportunities to develop. Our main objectives are to give a safe, high quality food and excellent service at all time.
How do you identify that potential?
You have to notice the people who have passion. For example, we had a kitchen helper who came to work every day with lots of questions, lots of interest. He was always looking to learn more. We arranged a schedule of extra training, and now he is one of our top cooks - someone who can prepare the best Indonesian flavors or fantastic international dishes.
Speaking of cuisines, how have you adapted your menus for the local staff?
Having worked all over the world, I have experienced and delivered menus for so many different tastes. Now, being in Indonesia has given me a real appreciation for the local cuisine and culture. Delivering these amazing tastes, along with more international dishes has been an ongoing focus. 
But localization is not just the recipe, you know. As a remote site, we use as much local produce as we can, so what you eat is truly food of this place, prepared and served at international standards.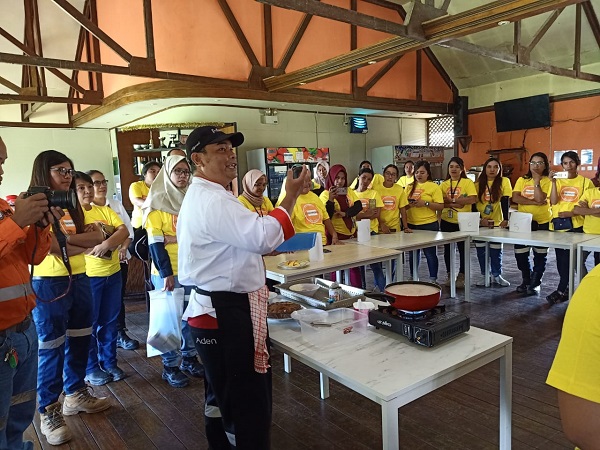 What has been your greatest achievement so far?
Becoming the Catering Operation Manager of a huge operation site like Gosowong. That was a big challenge and I'm proud to be where I am, doing work that I love. With Aden, I've been given opportunities to learn from inspiring people and have had the space to really develop my skills as a manager and leader.
Do you have a message for women considering a career like yours, or in other leadership roles?
Don't set limits on yourself or your goals. As a woman in a traditionally male industry, it hasn't always been easy. Something that I have learned is that you should never think that you can't do something because of your background, your gender, whatever. I think that my career is one example of this, but I'm happy to say that it isn't the only example at Aden, or even at Gosowong.