ADENERGY: MAKING A SPLASH FROM THE START
Less than five months since launching, Adenergy has already drawn attention from major players in the energy and data business. This was never clearer than last Friday in Shanghai, when Adenergy won Microsoft and Envision's prize for "Best Machine Learning and Energy Optimization Platform" before a crowd of several hundred people.
Receiving the award, Fulvio Bartolucci (Adenergy General Manager & Co-Founder) and Arnaud Dauvillier (Adenergy CEO) were joined by presenter Neil Zhao, the Vice President of Envision. Following the award ceremony, Zhao gave a detailed presentation on energy trends in Asia and described 2019 as the moment of opportunity for forward-thinking companies like Envision and Adenergy. This future, said Zhao, which belongs to the companies that a combine clear vision for how to take advantage of IoT tools with the know-how to bring smart data technology to the China's green energy industry. 
So, how did Adenergy, a company not even one year old come to the attention of heavy-hitters like Microsoft and Envision? What exactly is AEMO, and why did it win top honors in an industry with plenty of competition?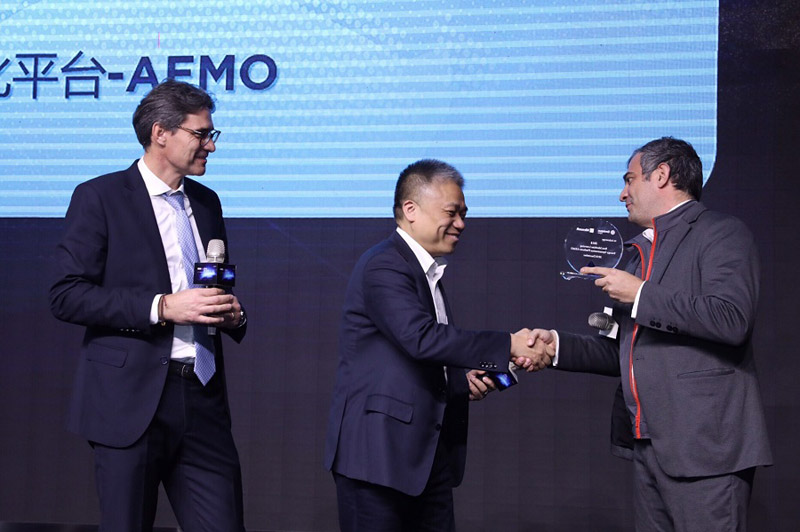 THE ROAD TO ENERGY AUTOMATION
AEMO boasts several high-value innovations, but none are more important than AEMO's machine-learning power. At the core of AEMO's design is an in-built ability to learn from experience and massive inputs of data, with the platform continually sharpening its performance.
This permanent loop of learning and refinement is the basis of machine learning, and the reason it is now recognized as a core component of the future economy. And while terms like "machine learning" and "AI" have become trendy in every industry, machine learning is no empty buzzword for the companies that really know how to use it. 
Already, AEMO's machine learning algorithm can interface with building management and HVAC system controls, dynamically creating and refining a virtual twin model of the facility from an energy-use point of view.  Then, based on the range of acceptable temperatures the user has sent, AEMO crunches the numbers to create and review thousands of possible energy-use scenarios until it has identified the one that best matches human preferences and the lowest-possible energy consumption. AEMO then sends precise, carefully-calibrated commands for each piece of equipment, on a scale that would be impossible or horribly time-consuming for human staff.
The beauty of a machine learning platform like AEMO is that the amount of data it uses will only grow with operation time and the rise of smart cities. With every increase in information, the algorithm improves – the platform reads it all and never forgets; the more data it gets, the more it optimizes its performance.
Similarly, AEMOs scope of operation today – continuous monitoring and optimization of HVAC systems – will only expand in the future. Lighting and air purification, for example, are just two areas of energy expenditure that AEMO increasingly be able to automate.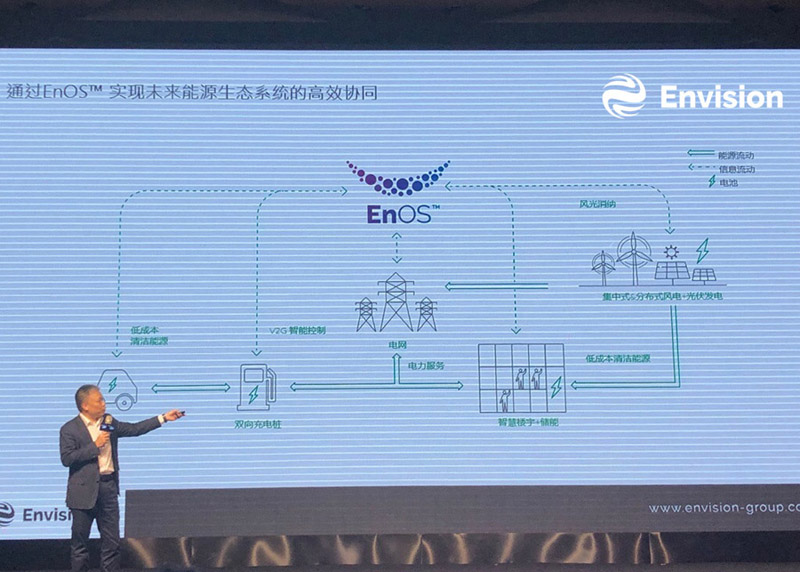 WHERE AEMO IS GOING
The AEMO story is about the future. This is chapter one.  As Asia's cities become increasingly smart, as Adenergy grows its business network, AEMO will continue evolving.
The biggest promise for Adenergy and its IoT platform comes through its parent company ADEN. In the future, AEMO will be integrated as the energy component of Aden Group's larger facility management platform. Facility managers will leverage the full power of AEMO to optimize their energy use, and boast just as much data firepower in e-maintenance; office and industrial robotics; and numerous other areas of operation.
Adenergy's award last Friday was a recognition of AEMO's potential to revolutionize energy management. That tool is already in the hands of Adenergy's clients and partners. Put to use across Aden Groups' network in China and Asia, there is every reason to expect this potential to be realized. 
Founded in China and dedicated to delivering the next wave of smart green energy in Asia, ADENERGY specializes in energy optimization and smart buildings for commercial properties, as well as distributed energy generation and storage solutions for the industrial sector. 
All Adenergy solutions are managed through AEMO, our cutting-edge IoT platform. AEMO is the 2018 winner of Microsoft and Envision Digital's award for "Best Machine Learning Energy Optimization Platform".