Let's talk about a specific project where you're going big on the smart city concept. What is ADENERGY doing in Chengdu?
In fact, it's not just one project, but a few projects in Chengdu. For one, we are working with the city government of Chengdu. We're also working with several district governments. Each project has a bit of a different flair, depending where it is in the city.
OK, let's start from the center of town.
In the central district of Chengdu – Qingyang District – there are a lot of older properties. We're focusing on the rehabilitation and refurbishing of an office building there. The city has big plans for this property – they see it as a future hub of activity in Qingyag district and more of a central attraction – a space that can bring new life to Chengdu's urban core.
I assume that ADENERGY is going to convert this into a mart building?
Of course! Here, we want to challenge ourselves – we want to see how much you can transform an older building into something much more smart and sustainable. We want to push the limits of what we can achieve, because this building is like many older structures in China; it wasn't designed to be sustainable or environmentally low-impact. Now we'll see how much we can push down the barriers that have kept older buildings like this outside of the green energy movement.
I think we can do some pioneering here, and create a model for other cities that want to make their older buildings smart.
What kind of energy solutions do you have in mind?
Our goal is to make the building completely eco-efficient. For power, the building will generate some of its own energy; we'll use some mix of solutions involving solar power and high-efficiency insulation. Of course, we will have all the advanced sensors in place and our AEMO platform for IoT and optimized energy management.
Then, we can test a number of other possibilities. We're looking at nature as well – we work with partners who are experimenting with vegetation to insulate and help purify the air of a building, for example.
And what is the final use for the building?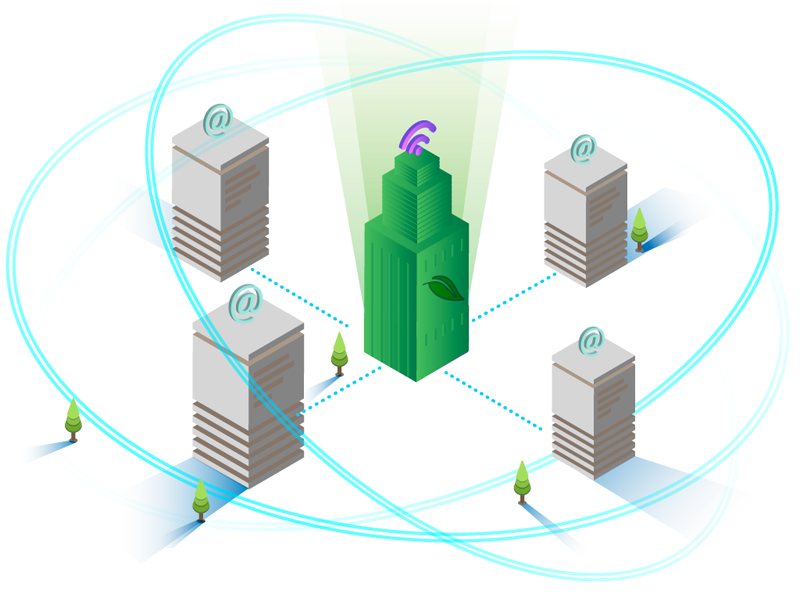 There is still some discussion around this. One possibility is to make it a co-working space, with some common facilities which will be open to the community and make the area feel more alive. Qingyang District has a strategy to redesign itself and our project is one piece of that. They want to make their buildings more interconnected and the atmosphere livelier. That, in turn, attracts talented and innovative companies to the area. 
Whatever the building's final use is, ADENERGY's goal is to create an energy-optimized, smart building which improves life for the people who use it. Ultimately, we're trying to show that you can build smart city infrastructure, even where the original engineers and architects had never considered it.
What else are you working on in Chengdu?     
The other very important area of Chengdu where we're active is Tianfu New Area, farther out from Chengdu's urban core, but a growing hub of innovation.
"New" is right there in the name: Tianfu New Area. I imagine this project is quite different from ADENERGY's work in the city core.  
Yes, Tianfu is part of this new China that has really emerged in recent years. It's very high-tech, very innovative. Actually, Tianfu is a huge zone inside of Chengdu. It has more than 1,000 square kilometers of newly-developed land which already includes high-tech parks with R&D centers from top Chinese universities. It's attracting a lot of Chinese and foreign tech companies. There's a lot of cutting-edge work being done there on IoT and Artificial Intelligence. 
Generally, there's a lot of buzz around Chengdu. People are talking about how it's stepping up and joining the major cities and innovation centers in China. Well, within Chengdu, Tianfu New Area is really pushing to become a central hub of innovation and value-creation in the city. We're sure Tianfu New Area has a big future. 
What will ADENERGY do in Tianfu New Area? 
Our current role is to work with some buildings which have already begun construction. We're implementing a new energy system and making the buildings as energy-efficient as possible. That's ADENERGY's specialty, of course; we'll be using our IoT platform to optimize the HVAC systems. With AEMO in place, these buildings will have a new capability to automate their energy management processes through AI and machine learning.
"We are betting on Chengdu in a big way... we are committing to making it a hub of the smart movement"
We've already joined forces with the district government of Tianfu and their investment arm. This is a starting point. Going forward, there will be discussions about the possibility of ADENERGY expanding our role to a much larger scale in Tianfu.
And along with these next steps, the energy platform will become more and more effective.
Of course – that's what machine learning brings. First HVAC optimization and automation, then move towards automation of lighting, air purification, and so on.    
Connected to these Chengdu projects, I know you're considering some financial innovations like a subscription model for energy. What's happening with this? 
In Tianfu New Area, this is something we've been exploring. Subscription is a new business model which has been tested in some advanced energy markets, like the United States. It would be a very new approach for China.
If it did happen, Tianfu New Area could be a good place to trial. Being one of China's younger high-tech zones, Tianfu has this kind of start-up spirit. It's the kind of place where there's openness to new ideas and shaking things up.
Whether we go ahead with the subscription model or not, I think it's essential for Adenergy to stay open to all kinds of innovation, wherever it may come from.
How would energy subscription work?
It's a way of simplifying very complex costs. On the client's side they'd just pay one monthly subscription for total energy and maintenance services. And that subscription charge would be the only cost for energy and maintenance, whether it's in one building or a whole series of buildings.
On the Adenergy side, we'd take care of every component of energy. That includes the CapEx investment, upgrades, maintenance and the AEMO platform. It's every single cost, set for certain targets which are determined at the subscription level. 
Can you give an example of how that might work in a real property?
Ok. Let's say you own a building and you're starting a smart building subscription. Together we'd audit your operational costs and energy use and agree to a target. For example, maybe we agree to a 10% reduction in your energy costs. Now Adenergy can say: "OK, it's this much money, but that's everything that you'll have to pay, we'll take care of all the work to meet that target" 
That means you'd no longer pay CapEx or maintenance upgrade. There would only be the agreed OpEx for the whole duration of our contract. On ADENERGY's side, we'd also do all the implementation of hardware, equipment, ApEx, OpEx, implementation of AEMO, our IoT platform. 
That simplicity would be very attractive for property managers.
That would be like paradise for every asset manager! You'd have an arrangement with almost no risk because there's one fixed expense and you can negotiate your rental contract, sure of your margins. That's it. You don't have to think about twenty thousand contracts. And on ADENERGY's side, we just have to walk the walk and deliver the results we've agreed to.
You said earlier that there's a lot of buzz about Chengdu. Why is Chengdu attracting attention?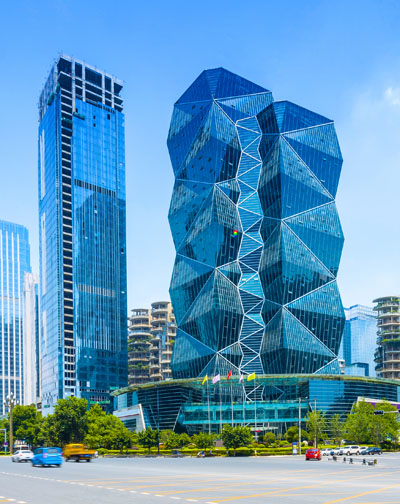 As a city, Chengdu is in the right place, at the right time. Overall, China is seeing a lot of development moving to its interior and towards China's west. The big driver is China's Belt & Road initiative, which is about intensively developing infrastructure and economic links along the historic Silk Road. China is building a new Silk Road that is super high-tech. It will integrate things like IoT, clean energy and smart cities on a whole new scale.
There will be a much stronger link between China's interior, where Chengdu is, and the big population centers on the coast. Then going west, beyond Chengdu, that infrastructure and trade linkage will extend beyond China, all throughout Central Asia.
If you look at Chengdu's geographic position, it's right in the middle of this new Silk Road. Then you look at the innovation boom happening in Tianfu New Area; you see Central Chengdu committing to smart buildings and smart infrastructure. It's clear that Chengdu has big things ahead; right now Chengdu is planting the seeds for a lot of future growth.
In the past, China's development has been associated with heavy industry, manufacturing and bulk manpower.  What you've described seems totally different: green energy and smart tech. 
Yes, that's the new China. For a long time China was mainly known as "the factory of the world". Now China has become an innovation hub which is creating more and more knowledge, especially in areas like AI, Internet of Things and robotics.
Chengdu's development is directly connected to this shift. In the old economy, it was all about exporting goods in ships and having mass labor to do the work. So, development was concentrated along the coast. The new Chinese economy is more about exporting innovation; exporting new models for green energy or financial and IT services. In the new model, being close to the ocean isn't as necessary. And with the Belt and Road initiative boosting development in the western part of China, Chengdu is becoming very, very strategic.
It sounds like ADENERGY and the Chengdu government are quite aligned on vision.
We are. The policies the city administration has been putting forward will really move Chengdu towards the top-tier of smart cities in China. Chengdu's government is helping create conditions for a smart city; we'll be on the ground, at the smart-building level, helping execute this vision.
We are betting on Chengdu in a big way – more than betting, in fact - we are committing to making it a hub of the smart movement in China, because all the conditions are right. We're thinking in terms of places like Shenzhen; in a few decades, they went from fishing village to one of Asia's most advanced smart cities. In Chengdu, you're starting out from a much more advanced position; it's already one of China's major cities, especially for West China. 
So we're in Chengdu for the long haul and it's really exciting to be a player in what we all expect to be a historic transformation. 
Click to read more of this ADEN Futures series about the smart city mevement in Asia.









 

 

Part 3

Chengdu: China's

Next Smart Hub?

 
•    Follow ADENERGY for more insights and updates on its projects. 
•    Follow parent company ADEN Group to learn how we are driving Asia's tech 4.0 revolution on every front of facility management. 
Founded in China and dedicated to delivering the next wave of smart green energy in Asia, ADENERGY specializes in energy optimization and smart buildings for commercial properties, as well as distributed energy generation and storage solutions for the industrial sector. 
All ADENERGY solutions are managed through AEMO, our cutting-edge IoT platform. AEMO is the 2018 winner of Microsoft and Envision Digital's award for "Best Machine Learning Energy Optimization Platform".