Thanks to our partners at Enersize, from whom we adapted this article.

C02: A challenge that industry cannot ignore
One way or another, your factory is – just like our planet – already being affected by carbon.

Next year in China, for example, an emissions trading system (ETS) will start to hold companies accountable for their direct emissions and indirect emissions. This new ETS is still evolving, but there is little doubt about China's direction in the next years: strict, nationwide enforcement of environmental regulation with real financial consequences for non-compliance.

For anyone in the industrial sector, the math is simple – find a comprehensive solution to cut carbon emissions, or get ready to pay.

With the stakes and the urgency so high, what a relief it is that there is at least one quick, value-generating solution, and that it can be applied to virtually every factory: leak management for your factory's compressed air systems.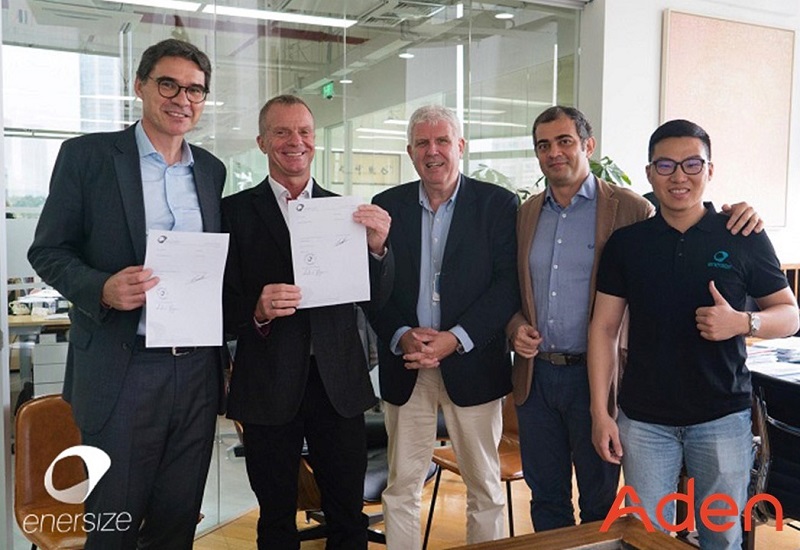 Adenergy and Enersize leadership meeting to formalize their partnership.
 
Carbon reduction's best-kept secret
After conducting several thousands of customer projects in factories around the world, Enersize and Adenergy can confidently say that the easiest and cheapest way for you to reduce carbon emissions is to optimize your compressed air system. Compressed air is most likely running a large part of your manufacturing process and is generally the most expensive source of energy use. The reason for this is that compressed air is a very inefficient process.

It's hard to believe, but it is true: the average compressed air system emits 30-50% more C02 than necessary. This also means a 30-50% higher electricity bill than necessary for a process that often uses a large share of a plant's electricity.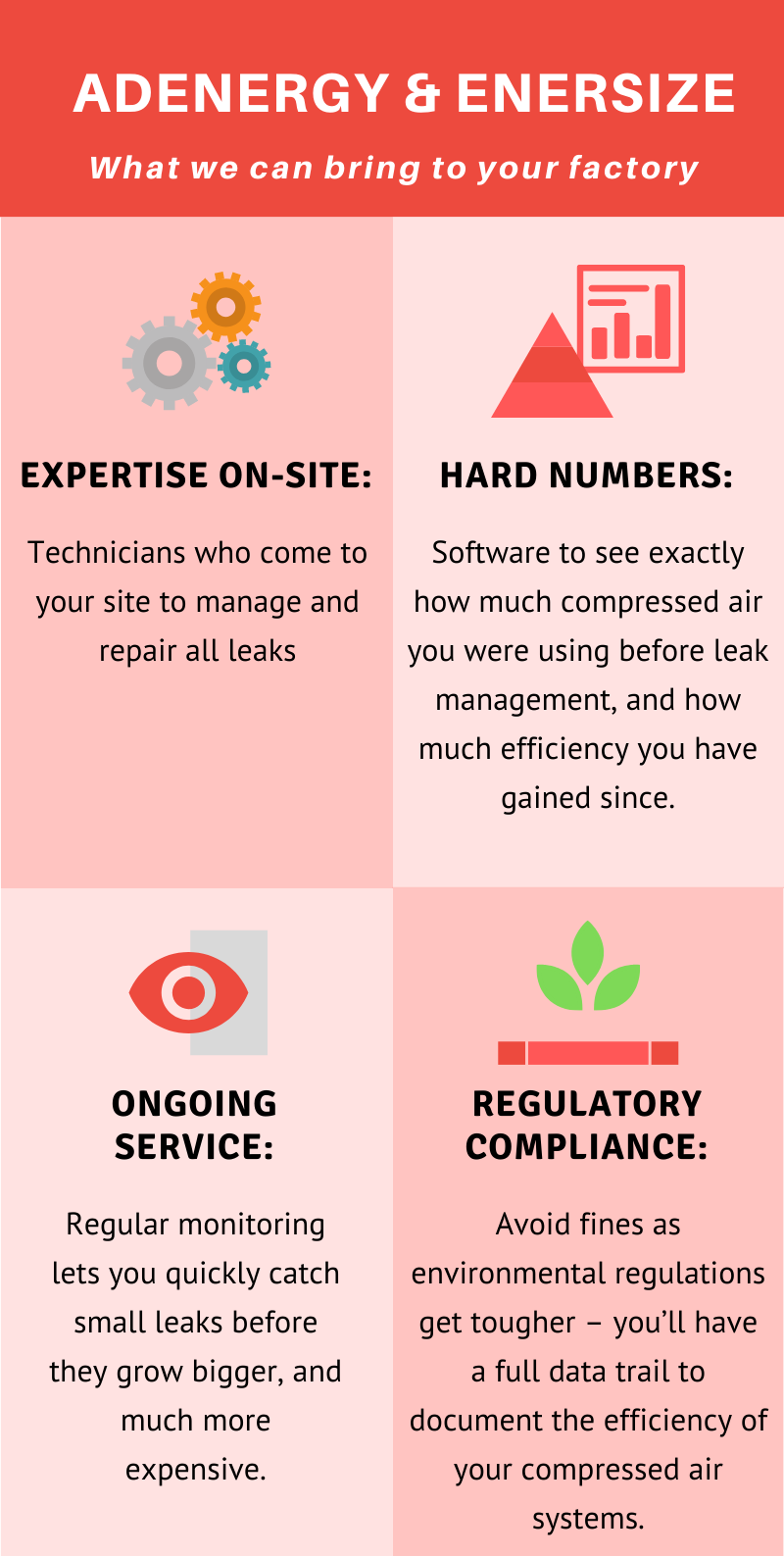 To give an example, at one small factory we found 122 leaks. Fixing these saved the customer over 820,000 RMB. And the pay-back time was 32 days! In what may be an unofficial record for our projects, one large manufacturer we visited had 3,600 leaks in their compressed air system, all of which were easy to fix.So, why is compressed air leakage such a widespread problem? It's rarely about bad intentions. The fact is that most,
if not all, users of compressed air lack accurate information from their systems. Without a clear picture of how much compressed air is being used and lost to leaks, businesses also fail to realize just how much C02 they are burning.

This is exactly why Adenergy and Enersize have teamed up to offer comprehensive leak management – delivered through advanced software and our expert technicians – to customers across China.

The numbers don't lie

The following are some averages for financial waste and unnecessary C02 emissions at a well-maintained plant with only 30% leakages and inefficiencies (kWh prices and C02 emissions).
     250 kW compressor capacity: 230-ton CO2. 507,000 RMB annually.
     1000 kW compressor capacity: 920-ton C02. Over 208 million RMB annually.
     500 kW compressor capacity: 4,600-ton C02. Over 10 million  RMB annually.

These carbon savings are not only the cheapest you can obtain on the market, they ae usually achieved very quickly. In addition, reducing the carbon intensity of your compressed air system will not only reduce your company's environmental impact, it will make a significant contribution to your bottom line within the first year of implementation. In many cases, companies see the value within the first month!

We have no doubt that compressed air savings are by far the cheapest, fastest and easiest means of reducing carbon emissions.  The key is doing it the right way and with the right tools. 

If considerable C02 reductions and ROI within a year are insufficient reasons to act, then perhaps the following reasons are more compelling:

1. Having an optimally managed compressed air system reduces the risk of downtime and quality disturbances due to unstable compressed air delivery.
2. Efficient compressed air systems provide you, your employees and customers a great deal of satisfaction as well as tangible results that go into your annual reports and ISO requirements of continuous improvements
3. You can reduce your overall investment and operating costs significantly during the life span of the compressed air system. In fact, our software and service often eliminate or delay further investment requirements.

So next time someone tells you how much it costs to reduce your carbon emissions, make sure you tell them not all carbon emissions are created equal. Some are worth more and some are worth less.

Click here to learn more about Adenergy and how we are bringing clean-energy transformations to facilities across Asia.