The modern soundscape is changing and the trend is clear: the world is getting louder and louder. All that noise can be a good thing. Here in Asia, there's an energetic buzz you can feel – and hear – whether you're in a high-tech, open-plan office or in a trendy restaurant filled with customers, pulsing music and the sound of mobile phones buzzing away.
But as the physical dimensions of our workspaces and chill-out spaces change; as offices go open-plan; as restaurants drop the formality and borrow the best elements of bars and nightclubs, business faces a new need for high-quality acoustic management.
Akouzen is that solution.
A new materials and acoustics division of ADEN Group, we specialize in sound-absorbing acoustic panels that can be customized for any size, shape or design. We've already hit the ground running with successful projects in China and Southeast Asia, drawing on our technical and design expertise, plus ADEN's twenty-year history of managing spaces in every sector.
For Akouzen and Aden Group, creating a truly healthy and user-friendly environment means getting serious about noise pollution. When business commits to a real transformation of its acoustic environment, the payoff for customers and employees is clear.
Here are six changes to expect when you partner with Akouzen for an acoustic solution:
1. Productivity skyrockets
Sure, it can be fun to overhear what your co-workers did on the weekend. But hearing that all day is another matter, especially when you're trying to focus on tasks that require careful attention. Research finds that noise distraction can cause a shocking 66% reduction in productivity. Other studies estimate that employees lose up to 86 minutes per day due to noise distraction. Acoustic panels address these issues head on, giving your people the calm and focus they need to succeed.
2. Employees collaborate more
Open-plan workspaces are meant to facilitate collaboration. And with good acoustics, they do. But without proper acoustic control, the constant flow of office noise can actually lead employees to withdraw from each other. Who hasn't seen a colleague plug into noise-cancelling headphones? That's a symptom, not a solution; Akouzen acoustic panels are the treatment. 
3. Staff stay energized
Employees in high-volume environments report some of the highest levels of burnout. Experts recommended keeping work environment between 60-70 decibels (dB), similar to hearing jazz music plated softly in a wine bar. However, acoustic audits in hospital, kitchens and other high-intensity workplaces find volumes that reach up to 110 db, similar to the volume of a nightclub or rock concert. Your people are your most important asset, so create an environment that nurtures their talents.
4. Errors go down, accuracy goes up
Noise pollution can easily impair communication and reduce intelligibility of speech; that's a recipe for costly mistakes that slow your work process and irritate customers. Imagine the stakes for a hospital where nurses and doctors can't focus or misunderstand each other. And if you're a restaurant owner, you don't have to be told the impact on customers and kitchen costs when orders get mixed up or missed. Do your business a favor with Akouzen paneling.
5. Customers stay longer and come back again
Dining should be enjoyable - who wants to scream across the table or struggle to keep a conversation going? Excessive noise negatively impacts the customer experience by creating a bad impression of the establishment and even affecting the ability to notice the taste of food. Remember: after poor service, the second most common restaurant complaint is noise.
6. Prevent hearing damage
Prolonged exposure to even moderate levels of noise can lead to irreversible hearing damage. When employees are exposed to noise-related problems for long hours, it can tear the tiny sensitive hair in their eardrums, reducing their sensitivity to sounds and causing hearing loss. Especially if you plan to keep staff long-term, noise management is a must.
How can Akouzen help you?
Optimizing your sound environment is absolutely achievable, if you choose a partner with deep acoustics know-how and a strong network in Asia. That would be us.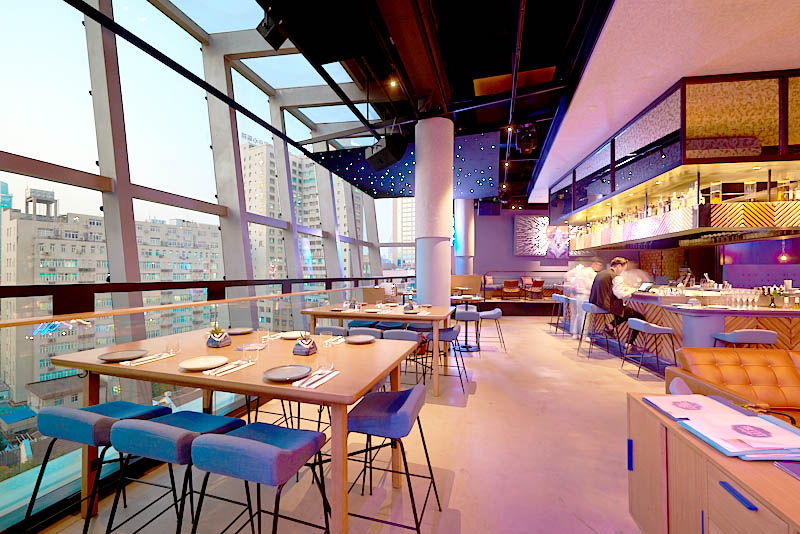 Akouzen provides customized, bottom-to-top solutions, starting with a careful acoustic audit where we collect site data and evaluate your noise issues. Following this, we propose a menu of acoustic solutions that are tailored to your exact needs. We offer a wide range of attractive panel options that seamlessly blend into your environment, whether hanging from your walls or suspended from your ceilings. Each and every panel can be customized to your aesthetic preferences. If you have a specific design in mind, just show us. We'll make it happen. If you prefer to start from our existing design catalogue, you'll be in good hands – some Akouzen projects have been initiated for aesthetic reasons alone.
Click below to download our Akouzen brochure and get further details on how we deliver acoustic transformations.