Young Indonesians are chipping away at old stereotypes, especially in tech and business. The classic line is that we're a "sleeping giant". But the digital age has arrived and young Indonesia isn't missing a step. This country has produced so many tech unicorns, and the level of digital services is really astonishing. You can do far more with a smart phone in Jakarta than would be possible in Europe or America. The young people don't wait - they're building a new Indonesia right now.

Getting started can be tough. Indonesia absolutely has the potential for double-digit GDP growth. But we haven't seen the same surge of FDI that has come into other ASEAN countries recently. The process of setting up in Indonesia is still very complicated. It's one more reason to have a dedicated team on the ground here. The fact that we can provide an Indonesia network from day one makes a real difference. 

It matters that we're Asia-born and Asia-centric. Because, increasingly, the face of an international JV in Indonesia is Asian-Asian. We come to the table as a partner that is, on one hand, deeply Indonesian. At the same time, Aden Group has its strong Chinese base, a sort of Chinese "DNA": headquarters in Shanghai and a direct line to all the digital innovations happening there. We've built a lot of IFM relationships where there's a JV between big Indonesian groups and Chinese investors: Hongqiao Group, Ningbo Lygend, Xinxing Qiyung, Tsingshan. The list goes on.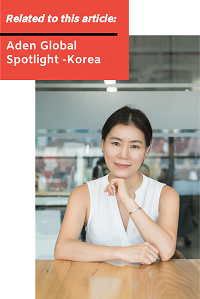 Indonesia is too complex for "one-size-fits-all". We have 17,000 different islands, after all. In cities like Jakarta or Balikpapan, you're meeting with a global clientele. But mining and gas projects also require a hyper-local approach. You have to travel rough roads and plant deep roots in remote communities. You can't just drop in. You need to understand local ways; sit with the heads of local government and villages; and show how your project will improve life for local people.

You don't just partner with business - you partner with communities. Managing a site isn't only delivering services. You're also managing the relationship with surrounding communities and opening up opportunities for local people. So, we buy locally and support the village economies. We set up sustainability projects like tree-planting and local farming. And we create meaningful employment – we hire 80% of staff locally. The idea is that working with Aden, local people won't just get a job, they'll get a profession. They often start without education and finish with a real CV.

Facility management is a daily opportunity to act on sustainability. There are so many places where you can make real gains: clean energy and on-site solar power; food sourcing and waste management. That's one reason integrated facility management is so powerful – when you integrate all these solutions, you're multiplying the opportunities for sustainable business.
Aden Indonesia's recent smart camp partnerships. 
People often tell us: "I didn't know you could do that with FM". The industry here is very traditional. Many people still think of FM as just simple cleaning, guards and food. Aden Group comes from a totally different perspective. We're pulling from all the innovation that is happening across Asia and building a new kind of FM. In Indonesia we have a chance to expand FM's scope with clean energy and smart buildings, and also to give traditional services a major upgrade through our data tools.

Digitalization is the most powerful tool in the kit. In Indonesia, there's no problem finding warm and friendly staff. The win-or-lose question is whether you can also deliver consistency. In that regard, our Digi-Ops and Digi-Maintenance apps have been a huge step forward – they let you standardize services and use real-time data to be much faster and much more flexible. Going digital really changes the physics of facility management – the feedback loop with clients gets tighter, communication lines shorten and your ability to measure KPIs completely takes off.

We like a challenge and we like being a challenger. We're facing off against some very well-established FM companies. Our attitude is that you have to fight for every opportunity, be more flexible, more responsive. Now we're seeing results – we've won a lot of Indonesian clients, but also contracts with some iconic global companies in industrial gas, education, consumer products and commercial real estate.

Indonesia cannot afford to be complacent. One reason Indonesia's FM sector has felt a bit sleepy is that labor costs are still quite low. For a long time, facility management has been able to rest on this cushion. But that misses the long-term trend. Young Indonesians as plugged in as any people in the world; their expectations are totally different from the older generation. Overseas companies are demanding that every region meet global standards for sustainability and tech infrastructure. Indonesia will be called to act. What is your facility doing to get ready for this new Indonesia? It's not a question to put off.
<<Click to get in touch with Aden today>>

INDONESIA BY THE NUMBERS

ADEN'S INDONESIA TEAM:      
Meet the team pioneering a new model of FM in Indonesia.