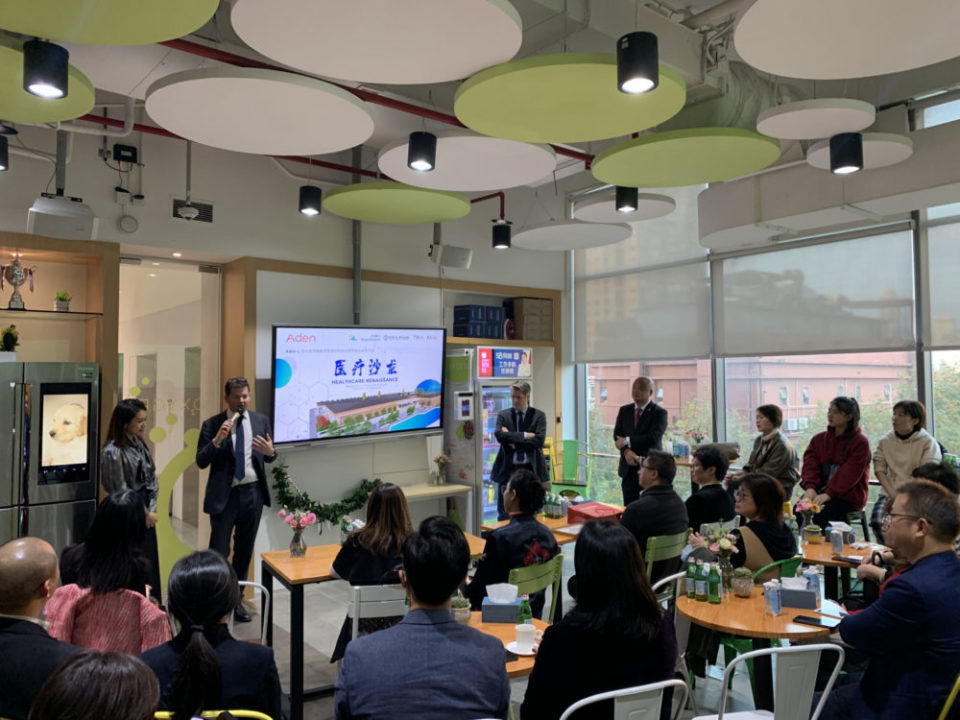 The medical industry is facing a period of dramatic transformation, driven by technological advances, changing user demands and the need to upgrade medical infrastructure. Aden is actively contributing to this transformation in China and around the world, which is why we were excited to host Healthcare Renaissance: Making Medical Infrastructure, Accessible, Sustainable, and Digitalized in partnership with Jiaotong University Medical School.
The event, held at Aden HQ, brought together more than 50 decision-makers in China's medical industry to discuss how new technologies are answering some of healthcare's biggest challenges. Led by Jackie Zhou, Aden's Head of Healthcare, presenters Matthieu Bristiel, Jason Su, Wenhua Zhu and Grace Hong looked at these developments in three key areas: modular construction & virtual twin technology, medical training by simulation and sustainability.
Akila Care smart and connected hospitals
Aden has a history of success and innovation in the medical and construction industry in China and globally. Aden and our partners played a part in the construction of the rapidly deployed COVID-19 hospitals in Wuhan, as well as in delivering cutting-edge medical facilities in Somalia and West Africa to combat Ebola. These smarter, faster and more connected hospitals were specifically designed to combat infectious diseases. Now, Aden is leveraging the same technology to bring about a permanent disruption to the traditional healthcare and construction industries.
The backbone of Akila Care hospitals, which Matthieu Bristiel outlined in his presentation, is the combination of innovative modular construction with Dassault Systèmes' 3DEXPERIENCE to create a virtual twin platform. Together, these technologies unleash the potential to construct hospitals in only 150 days while allowing all stakeholders to contribute to and access the facility through a single digital platform. The virtual twin also empowers facility managers to ensure the highest level of operations in all hard and soft services.
Akila Care, Matthieu continued, is a response to the severe global inequity in medical infrastructure exposed this year. Aden has already made progress with governments in Africa, South East Asia and Latin America, where Akila Care can overcome the geographical limitations that have made quality medicine difficult to deliver in the past.
Smart and sustainable
Access to better infrastructure and training aren't the only areas in need of improvement in the healthcare industry, as Jason Su and Wenhua Zhu outlined. Hospitals are one of the biggest commercial energy users and CO2 emitters in the world. Along with challenges from the pandemic, this year has seen major energy initiatives rolled out by China's government—the most notable being that the country will strive for carbon neutrality by 2060. Reaching this goal will require the healthcare industry to make major changes in the way they consume energy. Tera (Aden's JV with Total Eren and Eren Groupe), Dassault Systèmes and the Akila platform are helping hospitals improve efficiency without affecting operations.
Tera specializes in decentralized renewable energy, such as solar panels, and energy efficiency management. Tera technicians link buildings to the Akila AIoT platform, which monitors and automates systems such as HVAC to reduce carbon footprints, and feeds into the Dassault Systèmes virtual twin. Through machine learning and simulation, the virtual twin becomes smarter and more efficient at predicting and responding to environmental changes, which prioritizes occupant comfort while remaining hyper-efficient.
H4.0: Training by simulation
One of the most promising new technologies is medical training by simulation; Aden is at the forefront of its development. In her presentation, Grace Hong discussed how Aden, together with Dassault Systèmes and Hopital Virtuel de Lorraine (HVL), is creating H4.0, an international virtual hospital platform. H4.0 is a response to the shortages of general practitioners in China and abroad. This platform has already proven invaluable during the pandemic when HVL used it to train 200 nurses in only three weeks and teach 3rd-year medical students resuscitation techniques and lung intubation.
H4.0 brings medical training and healthcare into the future through virtual reality simulation training. It empowers healthcare workers old and new to undergo training in a variety of procedures and closely replicates levels of urgency, complications and uncertainties. H4.0 unlocks the potential to practice and master techniques entirely through simulation, allowing medical professionals all over the world to improve their diagnostic and treatment capabilities regardless of limiting factors such as geography and resources.
What the future holds
There are many challenges ahead when it comes to addressing global healthcare inequality, and those challenges have been underscored this year. However, with all challenges comes opportunities through innovation, which Aden and the Akila Care consortium have demonstrated. By combining the latest developments in modular construction, virtual twin technology, training by simulation and AIoT, Aden is leveraging the power of digitalization to create smarter, faster and more sustainable medical infrastructure across the world.