ADEN Services celebrates 15 Years Anniversary in China
On the occasion of its 15 year anniversary in China, discover more in a short video about ADEN Services history, values and vision. You can click here to view the video online.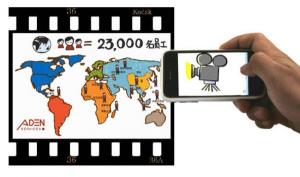 Founded in 1997, and established in China in 1999, ADEN Services is a multinational integrated facility management services company providing one-stop solutions for all types of facilities.
ADEN Services assists clients with achieving greater efficiency in their core business by providing essential support services such as : foodservice & well-being, cleaning & facilities support services, security & risk management, facility maintenance, energy services & waste management, forklift solutions, air purification, and HR management solutions.
With now 20,000 employees in China (23,000 worldwide), and Group headquarters in Shanghai, ADEN Services is providing support services in over 50 cities in China.