Your solution to China's changing labor market
China's labor market is constantly changing and maturing, with still many challenges, such as labor shortage and rising labor costs.  YESTERDAY, companies used to resort to labor dispatch as one of their strategies to minimize the impact of these developments on their bottom line. TODAY, companies increasingly resort to service outsourcing to meet these challenges.
Indeed, with the Chinese government's new legislation on regulating the use of labor dispatch (effective March 1, 2014), labor dispatch is now becoming less of a viable option for labor-stretched companies. With the new regulations, a company can only use dispatched laborers for temporary, auxiliary or substitutable positions, while the number of dispatched laborers is not to exceed 10% of the total number of its entire workforce. For many employers, this poses a serious challenge to their existing workforce organization.
This new "Must Change" regulation issued by the government is now leading companies to a moment of "Must Act" planning. One of the concrete actions which can help your organization meet this changing environment is by outsourcing your non-core services to a professional Facilities Management service provider such as ADEN Services.
What is service outsourcing?
Service outsourcing means for your organization to entrust its non-core, secondary or subsidiary functions or activities to an external service provider who will operate and manage these functions or activities professionally, making use of its expertise to offer a reliable, competent and cost-efficient service, thereby enhancing the total efficiency and competitiveness of your organization.
What are the benefits of service outsourcing over labor dispatch?
The table below displays the main advantages that partnering with ADEN Services offer to your company compared to working with a labor dispatch agency.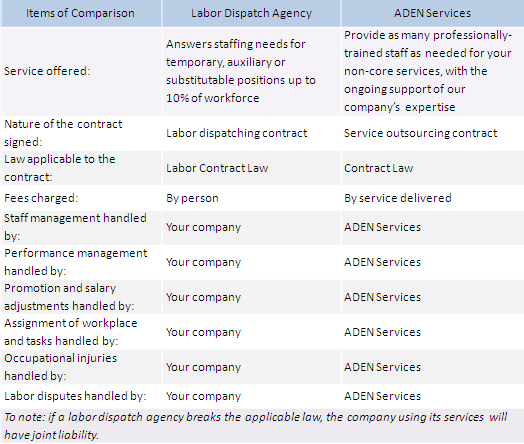 When you select the outsourced service option, the work and service scope, date of delivery, inspection and acceptance standards are all specified before the start of the services; during their delivery, you can then continuously evaluate the performance of the service provider. In this way, the quality of the services is ensured.
By using professional outsourced service providers, you do not have to handle the challenges of managing the employees directly during the duration of the labor process; instead, it is the provider's sole responsibility to make sure that its employees are performing up to the agreed objectives.