Jiang Zhe is the president of NXPark, which develops turnkey, sustainable, digitalized commercial and industrial parks under the umbrella of Aden Group.
Aden Group has been developing in China for more than 25 years. In the earliest days, our business focused on traditional facility services including catering, security, and cleaning. Gradually we have developed into a diversified group that can undertake most of the non-core business services of industrial and commercial enterprises.
Since we began serving the Chinese market in 1997, we have accumulated many high-quality customers, including more than 300 Fortune 500 customers, as well as many outstanding Chinese state-owned enterprises and high-growth private enterprises.
Currently, we have more than 20,000 employees in China and teams in more than 80 cities. We also have a presence in Southeast Asia, Africa, Europe, and South America, covering 25 countries.
What is Integrated Facilities Management Service, or IFM? What does IFM cover?
FM, facility management, is traditional property management. This is more like some of our earliest single services, such as security, cleaning, facility maintenance, and greening projects. The IFM we are talking about today is more of a trend in Europe and North America. For the client, he can manage all his non-core business through a single point of contact.
The pandemic has highlighted this as a comparative advantage. During the outbreak, many of our clients were required to operate in a closed loop. In this case, clients needed to have a coordinator like Aden to provide all the non-core business services that they need during operation. The convenience of IFM allows customers to concentrate their resources, manpower, and investment in their core business.
Through overall management, we can improve traditional services and improve the lives of employees. Our new business and technology have expanded the scope of our IFM offer to include services such as energy efficiency management, asset digitalization, and ESG-related process optimizations. Those are the advantages that IFM can bring. Compared with the European and American markets, the overall proportion of IFM in the Chinese market is still relatively low, but we believe that this area will be a growing trend in the future.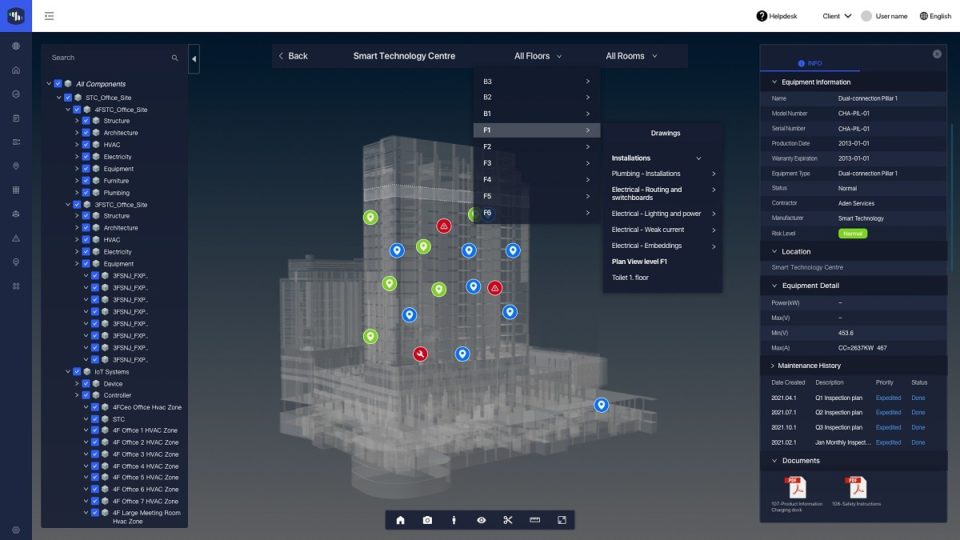 The new incremental market for IFM
For us, the future IFM market in China is a big opportunity, because we can also see that ESG is becoming increasingly important for enterprises over the past two years.   The concept of ESG itself is based on investment logic. In the past two years, we have seen that there is a real demand in the financial market and the consumer market for enterprises to improve their ESG performance and many of those metrics overlap with China's "dual carbon" goals.
In the past, the concept of ESG may not have been clear to everyone. Some people think installing a photovoltaic roof is considered low carbon or donating to charities at the end of the year is considered social responsibility. This approach may no longer be able to meet the real needs of investors and consumers. More and more people are inclined to transparent and measurable ESG standards. There are many opportunities here, such as how to make ESG standards transparent. Transparency requires digitization first. Real-time data should reflect corporate governance, carbon emissions, and social responsibility.
Another opportunity is to achieve the national "dual carbon" goals. "Dual carbon" is about energy production, energy efficiency management, energy storage, and the use of clean energy to help industrial production. On the other hand, it is about how a product measures its carbon footprint and reduces its carbon footprint throughout its life cycle.
Aden's service case in carbon emission reduction
With the help of our digital tool Akila, Aden Group has been able to make some very concrete successes in carbon reduction for clients. I will give two examples.
One is our industrial park project in Xi'an – which is a greenfield construction project (i.e., there is no existing structure on site). We use our digital platform, from initial design to construction to final operation, to manage the full life cycle of all assets. At the beginning of the design, we take the carbon footprint of all the materials used (embodied carbon footprint) and do a rational calculation. This calculation is accurate down to the carbon emissions in the production process, and even down to the carbon emissions in the post-purchase transportation process, etc., to calculate the embodied carbon emissions of the entire life cycle of the building.
Second, in the design process, we also fully considered the use of energy sources such as heat, cooling and electricity in the building and thought about how to optimize it. Then we used a combination of ground source heat pumps, photovoltaics, and other low-carbon solutions to be used to power the building and operations as much as possible. In addition, we use Akila to combine the energy production assets and the data output, including linkage with electric loads, energy storage, and consumption through the technology IoT with AI algorithms.
For example, if you only use a ground source heat pump technology, it is not intelligent by nature. Its working mechanism is simply off and on. When it reaches a peak between off and on, it will have a relatively high energy consumption. Is it possible to save energy with an intelligent algorithm before it reaches the peak or avoids hitting the highest peak each time?
Our strategy follows three steps: first is to calculate the carbon footprint of the entire building itself, second is to control the proportion of new energy used in its energy consumption links, and third, overall optimization, where we can achieve zero carbon in the building itself. The requirements for the entire carbon footprint are also far stricter than the requirements of our customers. This is through our efforts to drive the implementation of digital management tools on new projects.
The second example is the application of Akila on a brownfield, or already existing, project. This project was for a well-known furniture retail chain. The buildings are existing malls that are not intelligent or digitalized. We made these buildings smart by installing IoT sensors in various key areas and on key equipment to evaluate the entire energy consumption. After collecting and evaluating the data, we used AI optimization without any additional investment to reduce energy consumption by 25 to 30 percent, especially in the HVAC system.
The client wanted us to roll out the same solution in all Chinese stores and even wants to promote this application to some other business areas in the world. We are also very happy to see this kind of "China to the World" practice.
Innovation opportunities in cooperation with industrial and commercial customers
About 80 percent of Aden's clients are industrial and commercial customers, mainly industrial. In addition, we have many international hospitals and international schools, including some enterprises and institutions. In the future, our task is to continue to innovate and tackle the pain points facing them today regarding sustainability and energy consumption. Many people believe that IFM and the property management industry are still very traditional, but we just don't think so. I believe this industry is still driven by innovation, so the future of this industry will become more and more specialized and more professional. We can see that many professional industrial service giants have been born in Europe in the past two decades, and at the same time, market segment companies have been further differentiated on various racetracks.
From our point of view, we believe that the future of development, following the country's "dual carbon" and high-quality development goals has a real need for what we have built at Aden group – driven by innovation and technology. There is ample opportunity in many domestic sectors, industrial or commercial. We believe that our solutions can benefit a broad spectrum of industries including shipbuilding, aviation, new energy, nuclear energy, and medicine. There are many advantages we have to offer, and they're all driven by innovation.
Through innovation, we are helping customers prolong the life of assets and improve production efficiency. This is something that applies to every business that works in the built environment. In our industry, innovation cannot be completed by just one company behind closed doors. In many cases, we rely on partners to help us achieve common goals.
We very much welcome innovative companies that can enhance the value of the 2B companies in key areas such as environmental services, employee quality of life, carbon emissions, and digitalization to cooperate with us and grow together. The width and in-depth of the industry racetrack will be expanded as well. I believe the entire IFM and property management industry will be a trillion-level industry, so we must be full of imagination and cooperative spirit, and work with everyone to expand and deepen their respective areas of business.