One of the big agendas at this year's Two Sessions meetings (两会 lianghui), which laid out the economic development plan for the next five years, was green energy and CO2 emissions reduction. The two primary environmental goals for 2025 are reducing energy consumption by 13.5% and CO2 emissions by 18% per unit of GDP. According to Chinese experts, hitting these targets puts the country on track to reach peak emissions in 2030 and carbon-neutrality by 2060, both of which are major commitments made by the government last year.
Although the meeting did not outline specific policy implementation, there has already been some development earlier in the year with the launch of a national Emissions Trading Scheme (ETS) and carbon trading market. A long-expected emissions cap was notably absent from the plan, but that does not mean it won't come sometime in the future. When it does, it will surely affect industrial and commercial businesses, which right now account for nearly 30% of all energy use.
All eyes on 2025: preparing for bottom-up policy roll-outs
The coming five years will most likely look similar to the last five, where provinces and cities in China were allowed to take different approaches to meet the national targets. Over the previous five-year period, this bottom-up arrangement resulted in some steadily implemented plans and other drastic actions taken by provinces to reach their goals. Businesses should prepare for similar plans and actions over the next five years. In fact, some major businesses, such as Ant Financial, are taking steps to prepare already.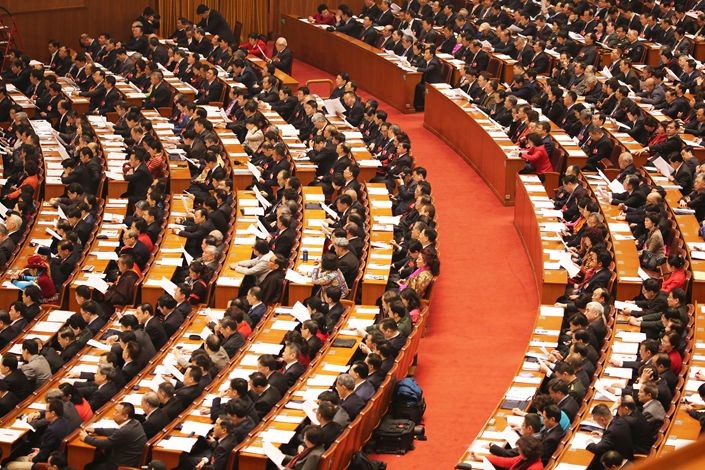 Although there is still some level of the unknown, businesses and buildings are not without options to ready themselves. Facility managers and property owners can take action to prepare for whatever policies come down the pipeline.
Several ways they can do this are:
Using digital tools to better manage and monitor energy and utilities
Upgrading assets to more efficient models
Building on-site renewable power sources and storage batteries
Getting a head start to make industrial and commercial sites more sustainable is an investment even without policy pressure. ROIs typically come within the first few years of operations, and can even come within the first year with a CapEx-free Energy as a Service plan (EaaS).
Even if the Two Sessions concluded without a concrete policy rollout, the current trend in China is towards more ecologically conscious and sustainable economic development. Last year in particular made this trend obvious at the national level, and it is continuing to grow at the investor and consumer levels. Over the next five years, bottom-up pressure may prove an even more powerful force than top-down pressure. The overall message is clear: businesses that are not making plans to reduce their emissions and operate in more transparent and sustainable ways are doing so at their own risk.
This post originally appeared on Tera Energies