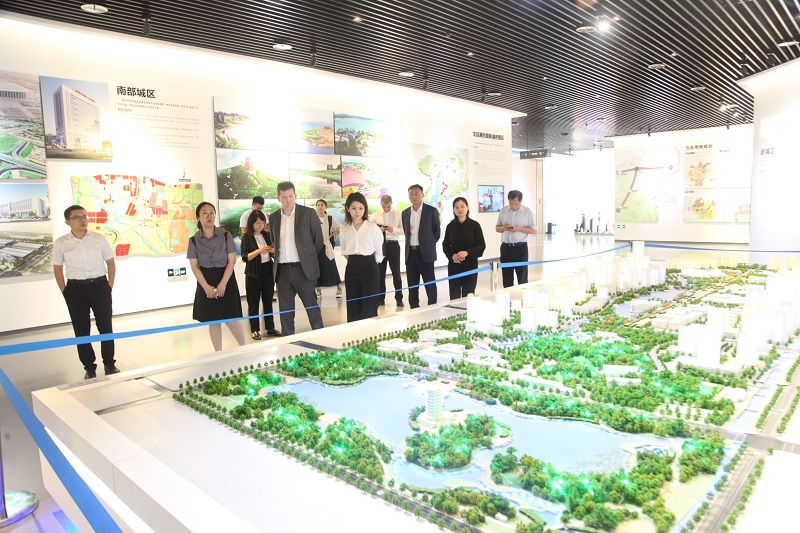 Aden Smart Park continues to gain momentum in Shandong Province. Last week in Zibo, president and founder Joachim Poylo met with high-ranking city representatives to discuss bringing Aden Smart Park, a smart and sustainable turn-key industrial park, to the area. Zibo is the second city in Shandong where Aden has held high-level talks for Smart Park, following the signing with Jining last month.
In a country whose economy and industrial needs are quickly moving towards AI, automation and sustainability, it is understandable why Aden Smart Park has already gained momentum – the park provides immediate access to smart and connected facilities, renewable energy and on-site robotics without need for client investment in any of this infrastructure. It also serves as a stimulus to the wider regional economy.
Meeting Aden, Zibo's upper municipal leadership found much in common as they outlined a vision of transformation through Industry 4.0 and sustainability. Attendees included Jiang Duntao  (Secretary of the Municipal Party Committee), Yu Haitian (Deputy Secretary of the Municipal Party Committee and Mayor), Ma Xiaolei (Deputy secretary of the Municipal Party Committee), and several others.
During talks, Jiang Duntao highlighted Zibo's solid history, sound industrial foundation, and rich cultural and tourism resources. Zibo is in the midst of economic restructuring, he noted, with broad market reforms to invigorate the local business environment and provide a wider space for cooperation. Joachim Poylo noted that Aden is stepping up cooperation efforts at the municipal government level, and is looking to leverage its network to serve as a bridge between Zibo and Fortune 500 companies through Aden Smart Park.
The future of industry is integrated facility management, automation, optimized operations and renewable energy all digitally linked and connected. Smart Park delivers this all in a single package. As Zibo's leaders look towards the city's future development, Aden is ready to work right alongside them as a strategic partner in Industry 4.0.