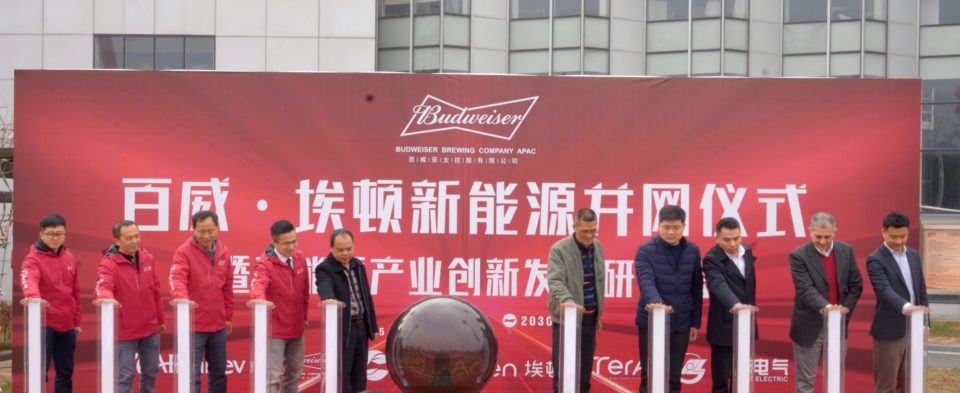 Feb. 28th. To celebrate the successful connection of Budweiser's micro-grid solar energy project in Nanchang, Aden and Budweiser held a launch ceremony. Officials of Nanchang County and Xiaolan Economic and Technological Development Zone, leaders of major renewable energy companies, and other VIP guests delivered speeches in honor of the occasion.
The project was designed and delivered by the Aden Energy team, with an installed capacity of 4.2MW provided by 40,000 square meters of rooftop solar panels. The 3.6 million KWh of clean energy for the site annually will greatly reduce the site's carbon footprint. Aden, in collaboration with Zhongxin New Energy will operate and maintain the solar panels and micro-grid.
Leaning on decades of experience in renewable energy, energy efficiency and facility management, including technology, investment, installation and O&M services, Aden Energy has successfully delivered long-term sustainable infrastructure. This site will serve as a model project in support of China's "dual-reduction" efforts of high-energy-consuming sectors and the innovation and development of new energy solutions. Budweiser's facilities are a flagship for Nanchang's green campaign towards the realization of national "carbon peak, carbon neutral" goals.
At the ceremony, the local officials recognized Budweiser's contributions towards decarbonization, commitments to carbon neutrality and new energy innovation. They also encouraged more cooperation between Aden and other local organizations to advance the mission of low-carbon, sustainable and green transformation of the greater Nanchang area.
About Budweiser
Since its official entry in Chinese market in 1995, Budweiser, a world-renowned beer brand born in the United States in 1876 has grown into a dominant player with its superior quality.
About Zooming New Energy
Suzhou Zooming New Energy Co., Ltd. was established in April 2016 as the first state-owned holding company specialized in new energy in Suzhou Industrial Park. As a "comprehensive smart energy service provider", ZNE is committed to promoting the low-carbon transformation of energy consumption, actively adopting green financial tools to benefit thousands of companies and households with clean energy.