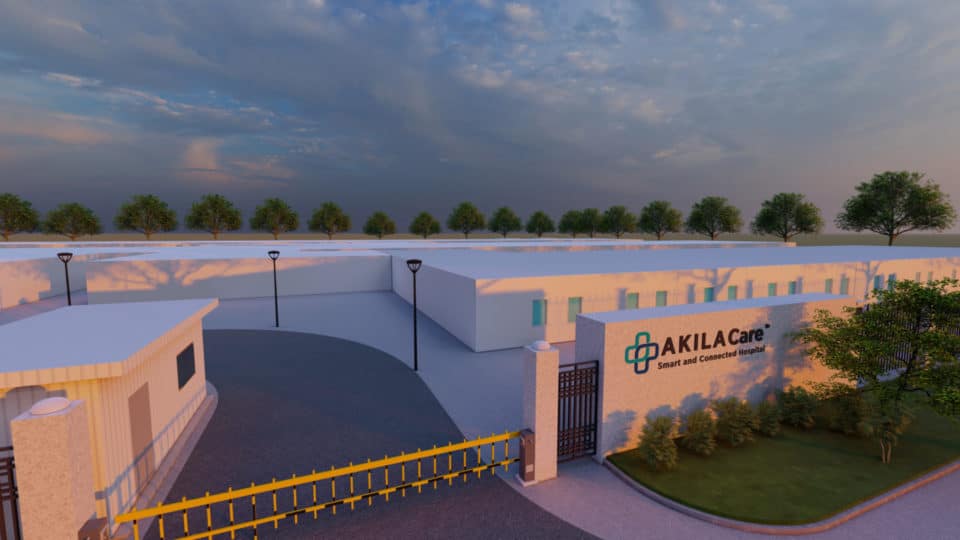 Shanghai, China — April 23, 2020. 
Aden Group, one of Asia's largest and most technologically advanced IFM companies, announced today that it will lead a consortium including Dassault Systèmes, world leader in collaborative 3D virtual environments, to develop and launch AKILA Care, a modular smart hospital. These smart hospitals will be deployed to COVID-19 hot spots around the globe and can be commissioned, shipped, constructed and operational within 100 days.
Other members of the consortium bring first-hand experience from Wuhan's rapid-construction emergency hospitals and include CSCEC Third Bureau, the world's largest engineering and construction company, as well as China National Pharmaceutical Foreign Trade Corporation, China's leading medical-equipment company.
AKILA Care will boast a unique combination of features, all critical to emergency COVID-19 response, and will remain an advanced but easily maintained piece of medical infrastructure after the crisis ends. Among these features are:
•    AKILA virtual twin platform (digital linking & optimization of all systems)
•    Modular architecture (rapid deployment and construction)
•    Advanced medical technologies such as air-pressure management (restricting virus circulation on-site)
•    Full on-site infrastructure (e.g. emergency power systems, cloud-based information systems, water supply & drainage systems, Aden Group's global supply chain & network)
The most innovative feature will be the AKILA virtual twin platform, which combines Aden's rich facility and asset-management expertise with Dassault Systèmes' world-leading 3DEXPERIENCE platform. AKILA will create a virtual environment for the full life cycle of each AKILA Care facility, from design, simulation and development into construction, operations and maintenance.
Before construction: the AKILA Care virtual twin will create a collaborative virtual environment in which every stakeholder (partners, suppliers, engineers, architects, etc.) can use the virtual twin to:
•    Optimize concept design, space planning, asset and medical equipment integration.
•    Simulate manufacturing and equipment performance.
•    Train for facility construction and logistics.
After construction: the solution can be used for digital asset management that connects the facility with state-of-the art medical equipment to monitor digitalized hygiene procedures and hospital floor robots, as well as energy and systems optimization.
Commenting on the launch of AKILA Care, Aden Group co-founders Francois Amman and Joachim Poylo said: "While the COVID-19 crisis has brought hardship and tragedy, we also know that moments of crisis often serve as catalysts for innovation and transformation. We are confident that AKILA Care will be another such moment, and that the convergence of the physical and virtual worlds will take us through the current crisis and into a new era that is safer, smarter, more sustainable and more efficient than ever before."
Bernard Charlès, Vice Chairman and CEO of Dassault Systèmes said "Aden's AKILA Care novel and proven approach to outcome-based facility management calls for modular, smart and connected facilities engineered and built with an advanced manufacturing approach. The modularity and operation-centered facilities can only be made possible with a holistic, integrated, end-to-end virtual twin experience of the outcome. The 3DEXPERIENCE platform is the catalyst and enabler of such radical transformation, making our alliance a showcase for the future delivery of mission-critical infrastructure." He further commented: "Together we have already shown how simulating virus contamination and diffusion within the Leishenshan hospital's ventilation system can help to address urgent healthcare needs, and now we will work together to apply our knowledge and know-how to all aspects of the hospital lifecycle."
ABOUT ADEN GROUP
Aden Group is a pioneer in the tech, energy and sustainability-oriented optimization of buildings and cities. Headquartered in Shanghai and active in over 80 Chinese cities, Aden has been an active contributor to the fight against COVID-19 from day one, blending advanced automation and digital solutions with on-the-ground operations from its expertly-trained staff. With a 20-year history, 1,500 partners and 26,000 employees, Aden has developed a deep, cross-sector understanding of facility operations and a powerful network to deliver its solutions in any setting.
For inquiries about AKILA Care, fill out the form below, or email akilacare@adenservices.com