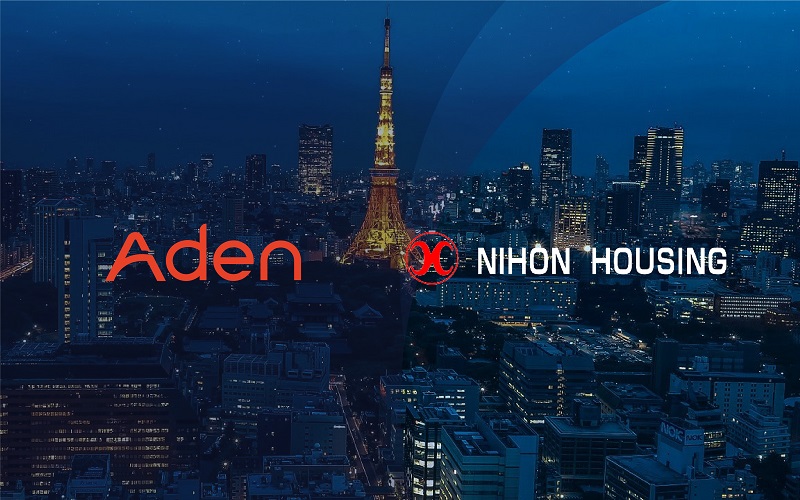 Tokyo, June 27th, 2019 – ADEN has established a game-changing new partnership by joining capabilities with Nihon Housing, a major Japanese real estate development and facility management company that manages apartments, offices, and more than 450,000 condominium units. This ambitious move marks a promising new era for ADEN Japan, as its clients will benefit from the expertise and care of both ADEN and Nihon Housing. 
This new partnership establishes Nihon Housing as the provider of IFM (Integrated Facility Management) Services for ADEN clients across Japan. ADEN continues to grow and develop IFM Services for its global clients, and now ADEN customers in Japan can look forward to the care of a company with deep roots in the country and culture.
Housing has grown to become Japan's largest condominium management company in the industry and they are highly-regarded for offering personal care for their clients. They understand that every individual facility is unique, and every individual client is unique. Therefore, they provide flexible solutions and maintain staff that swiftly respond to requests. As Nihon Housing shares a similar vision with ADEN in creating comfortable living environments for each and every customer, ADEN is enthusiastic to have them as a partner.
Japanese companies are rapidly working to upgrade their facilities and to modernize their IFM Services. ADEN's office in Japan positions the company as a visionary leader for IFM solutions from robotics to eco-friendly energy. ADEN Japan can now greatly enhance these capabilities with the services Nihon Housing can offer.
"As ADEN expands its position in Japan, Nihon Housing makes an attractive partner. They have built a proven track record of success since their founding in 1958, and ADEN is excited to join them to deliver cutting-edge IFM Services to ADEN's clients. Together, ADEN and Nihon Housing look forward to providing top-notch service that keeps properties secure, comfortable, and ahead of the curve with the latest energy-saving technology." ADEN's Founder & President Joachim Poylo says.
ADEN Japan's office is a strategically important location as Japan is a hub for tech-savvy companies ushering in a new era of solutions for infrastructure and energy. On top of that, as Asia grows more globally connected, Japan is also an integral launching point into markets in the Asia Pacific region, as well as into Southeast Asia, Central Asia, Africa, and Latin America. With a now significantly stronger position in Japan, ADEN foresees a bright future. The company is excited to take steps towards its goal of building better solutions using the next wave of SMART tech for its clients in Asia and around the world.
Boilerplate:
Asia has changed. Asia has evolved. So have the needs of businesses in an economy 4.0 where strategic deployment of SMART tech, clean energy, AI and automated solutions is a must-have for ongoing competitiveness. More than any integrated facility management (IFM) provider, ADEN recognizes that the new era has already arrived and puts the next wave of SMART tech and data tools at the heart of our solutions.
ADEN is Asia-born and Asia-centric, with a 20-year history of getting things done in China, ASEAN and beyond. ADEN has built a powerful network and is headquartered in Shanghai, China – ground zero of innovation in Industry 4.0. Already boasting an award-winning energy optimization and automation platform, ADEN continues to push forward with a vision of uniting the full spectrum of IFM solutions through our IoT platform.
ADEN operates in over 25 countries, with 80 cities in China alone. ADEN now has 26,000 employees around the world, ensuring that our partners receive comprehensive, top-level facility services at every level. We partner with clients in commercial, industrial and private sectors; among these, many companies listed on the Fortune 500 count on ADEN for strategic outsourcing.