At a glance:
Corporate food service is a powerful value-add for employees
Strategic partnerships with food service providers can bring more variety, better services and higher quality food
Innovative techniques can lower costs and improve ESG scores
Corporate dining enhances employee productivity and corporate culture
Businesses can attract higher-level talent with the right food service offer
Growing investment in workplace dining experiences
Corporate food service is undergoing rapid change globally. In the next three to four years, the market is expected to grow by 187 billion USD. Asia will account for 38% of that growth. The old model of a coffee room, pantry, or cafeteria is changing to meet the needs of a multigenerational, diverse and demanding set of high-talent workers. The modern workforce is putting a higher value on workplace experience, and businesses are responding. According to the Great Place to Work Institute, every one of the top-100 companies they track is investing heavily in corporate food service. These companies are providing their employees with a higher level of workplace dining that emphasizes quality, variety, health and sustainability.
After making this investment, businesses are seeing higher employee satisfaction, worker retention and access to a higher-level talent pool than those that do not. At the same time, metrics like employee satisfaction and sustainability are more important than ever as ESG becomes a defining guideline for company stakeholders.
The new baseline for corporate catering: restaurant-level experiences
Corporate catering standards are rising to meet their biggest competition: restaurants. As younger generations in cities around Asia enter the workforce, they are bringing with them a new sense of taste and higher dining standards. They crave quality and variety in their food. Up until now, this was something they could only find in restaurants. Adding to this competition is easier-than-ever access to restaurants with the explosion of food delivery and courier services (Meituan, Eleme, GrabFood, Foodpanda). However, there are still ways that corporate food service is rising to this challenge.
The first step is meeting expectations of quality, variety and experience. High-level corporate caterers are doing this by bringing in food industry veterans and skilled chefs looking to escape the restaurant world for a position that gives them the freedom to be creative and closer contact with their diners without the same pressure of the restaurant world. These chefs are working with nutritionists to plan and design menus and help craft better operational workflows. They are also working with technical and architectural designers to create better food spaces.
Rethinking the canteen
The days of the cafeteria line are over, and they are being replaced with more comfortable spaces with a wider variety of options. Google famously developed its incredible series of Googler-only food services by changing from a cafeteria model to one with more diverse interaction points. Instead of a food line, employees can choose between multiple small cafes that serve a wide variety of gourmet dishes. Similarly, CitiGroup worked with Restaurant Associates in New York City to create a similar concept, transforming their cafeteria into a 15-concept dining hall. Companies like Google and CitiGroup are meeting the competition head-on by providing higher quality and more diverse food options. And they're taking it a step further to beat restaurants in terms of convenience.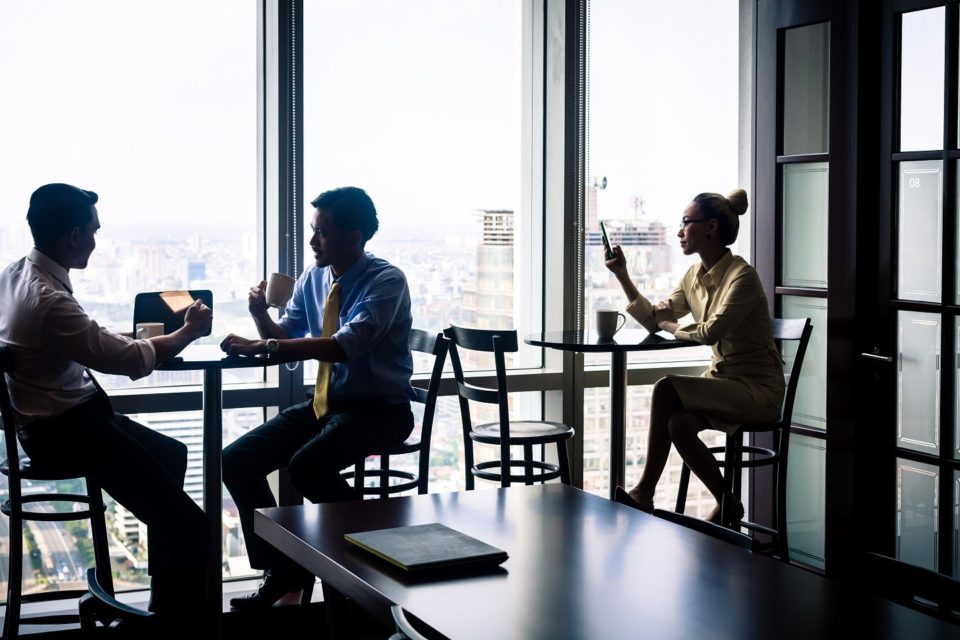 Food service fuels productivity
The value of better corporate food service goes beyond the quality of food. Access to high-quality food on-site enhances employee productivity, welfare, and morale and increases time spent on campus. A better workplace food service experience leads to better work culture in general. The quality of the food is a motivator for coming into the office. Breakfast service encourages early attendance. Workers eating a great lunch on or near campus will find themselves back at their desks, ready to work sooner and faster. According to WorkTech, this manifests a productivity increase of as much as 20 minutes a day. High-quality meal dinner services, snacks, and events will keep workers enticed to stay late and produce more—especially when the kitchen is allowed to be innovative.
Playing to strengths: how workplace food service can get an edge on restaurants
There are several unique offers that corporate food services can provide that restaurants can't: proximity, better pricing, personalization and community engagement. The right food services partner brings a comprehensive range of services including grab-and-go box-meals, point-of-service preparation, pop-up snack and grocery stores, themed cafes & espresso bars, online ordering, customized diet plans and online feedback delivered instantly to the kitchen. This service advantage empowers the worker through the experience of getting the food they want and being part of a community that shares in this food.
Dining: an indispensable part of life at work
Now, corporate food service encompasses much more than just lunch. The food service provider must cater to a range of corporate events such as catered holiday parties to important client meetings, executive lunches, and made-to-order, high-quality dining. For older generations, workplace food services or a dining benefit package was a nice add-on. Now, for Millennials and young Gen Z workers, it is listed among the top 15 benefits.
Even with such a strong desire for food service, only relatively few businesses are providing it. According to a 2018 study by SHRM, less than 1/3 of businesses offer free snacks and beverages, and only 29% offer an on-site dining service. However, the companies that do choose to provide food service can differentiate themselves from competitors and attract top-level talent.
Partnerships are the key to success
Building a workplace food service in-house to the standards of the modern workforce is challenging for even the wealthiest companies. Keeping the business lean and profitable simply isn't compatible with the need for staffing up for food service—keeping up-to-date with regulations, managing insurance liability, and recruiting talent all pose significant challenges—and your competition has reach and scale. The key to success in offering high-quality food service is finding a reliable partner whose values in food service are aligned with the company's values.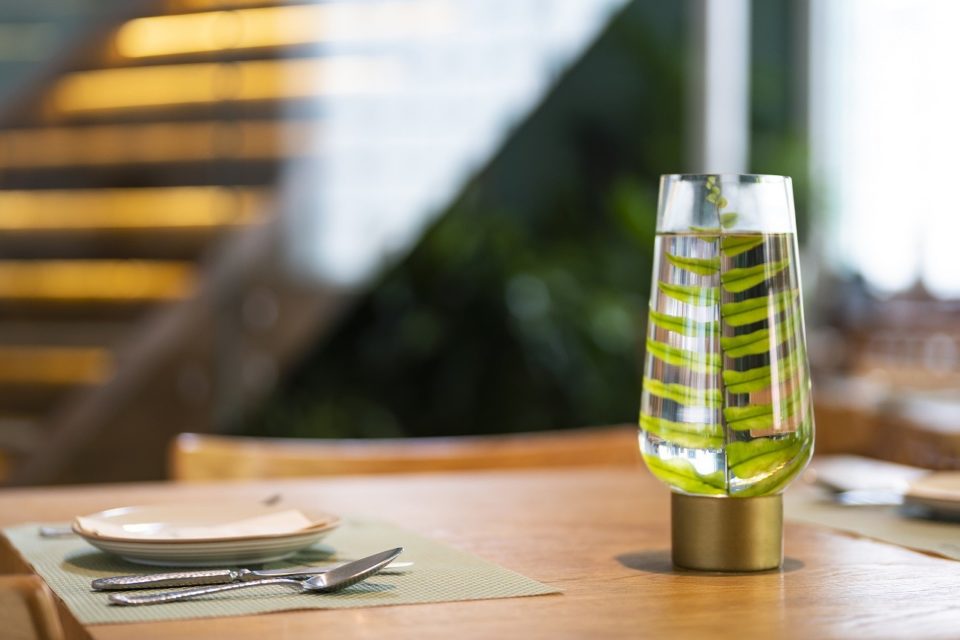 Staying sustainable is more than marketing
The best practices used by food service contractors now are fully in line with ESG standards promulgated by agencies such as the Global Reporting Initiative or SASB. Today every business needs to be as green and sustainable as possible—and so do high-quality cuisine. Fresh food, sourced locally and ethically (or even grown on-site), always means better food—and this is the kind of food that supports your company's ESG initiatives.
But meeting ESG goals goes beyond sourcing–innovative techniques to reduce food waste are now the industry standard. Overproduced items can be packaged and sold at discounts to employees as take-home items, produce boxes for fresh ingredients are sold directly to workers, and unused food is donated to local food banks and charities. Packaging is kept to a minimum when employees eat at the workplace rather than ordering delivery, and when it is used is made from biodegradable materials. The carbon intensity of food preparation is lowered when it is centralized and sourced locally. Corporate food service done right and delivered by a trustworthy partner has a high potential for a positive ESG impact.
Eat together, work together: building a community at work through food
Creating a positive meal environment on campus, and breaking away from the stress of eating at your desk gives workers a chance to meet each other, and feel like they belong to a community. Only communities can foster a positive culture, and the basis of a community since time immemorial has been the sharing of food. These intangible benefits have a material side as well—healthy food, balanced nutrition, and managed portion sizes will help positively influence employee health and energy levels. The Harvard Business Review, in a case study of Johnson & Johnson, saw a 600% ROI on investments in employee welfare through reduced costs for healthcare, missed workdays, and employee attrition and churn.
Workplace food service is worth the investment
The benefits to investing in a comprehensive benefit like high-quality corporate dining are many. This benefit is a key component of a holistic strategy improving ESG, wellness improvement, and talent acquisition, and morale will hang. The right corporate food service partner will help improve your company's ESG rating by reducing food and packaging waste, lowering carbon intensity, supporting local agriculture, and improving employee health outcomes. Simply having high-quality corporate food service enhances the company's image to prospective hires. Your company's compensation package will be compared to those of high-growth, prestigious businesses.
'The War for Talent' characterizes modern hiring practice. The world has a demand for talent that far outstrips its current supply—and the gap is projected to widen. How can a business attract, retain and maintain talent? Amenities like food service to employees improve your existing employee's morale and comfort. Beyond that, they will improve the reputation, quality, and consistency of business.